DL TOWER is a prestigious project by DL Invest Group in Katowice-Wełnowiec
The area is growing to become one of the new business districts of Katowice. It has already attracted well-known brands such as ABB, Canal+ and Ferroli. DL Tower is a building designed on the plan of a triangle, and is being erected at one of the key traffic arteries of the city - Korfantego Avenue. The property is surrounded by office, retail and service buildings.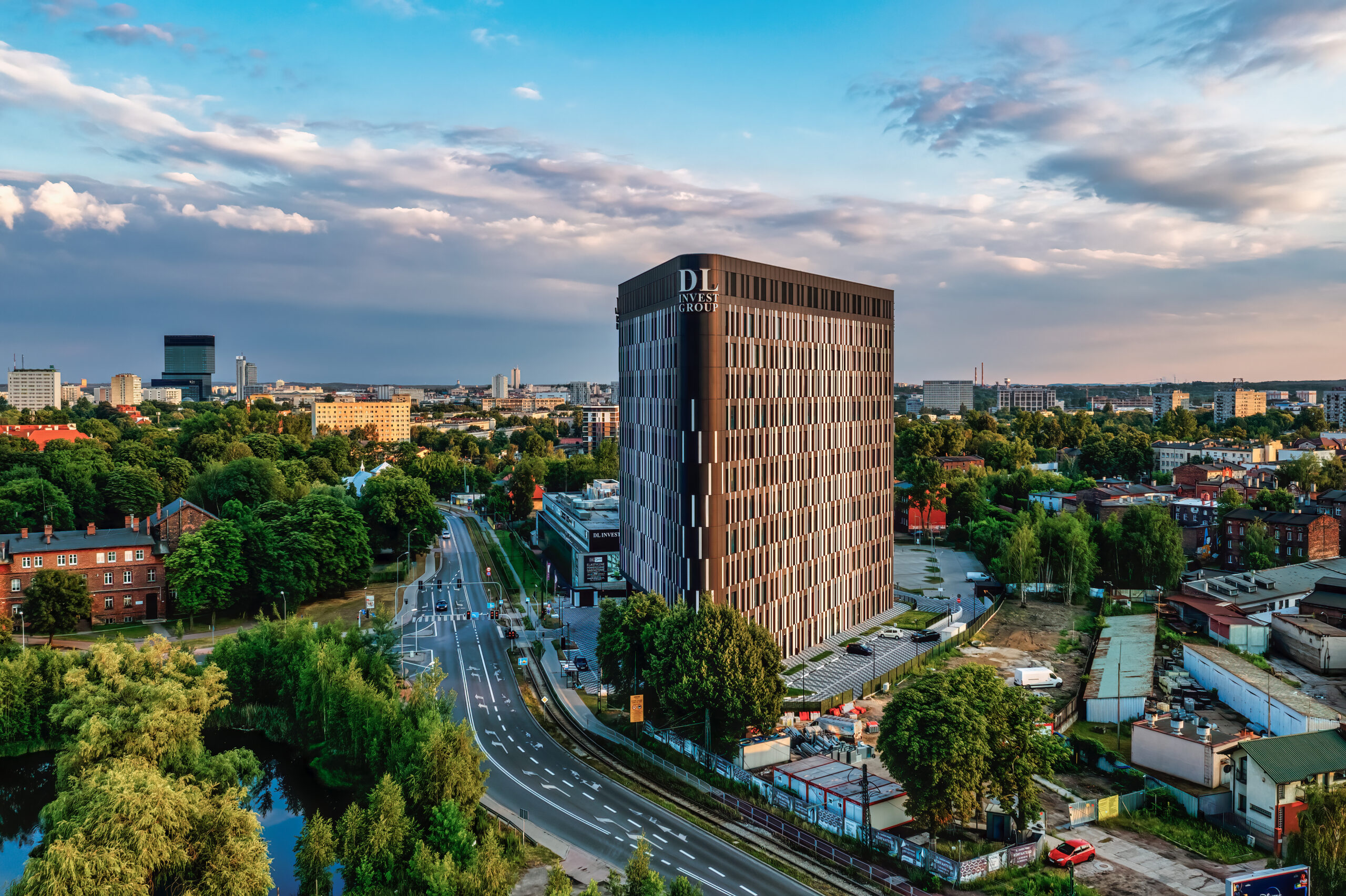 The property is located in the vicinity of the most recognisable buildings in the Silesian Voivodship, i.e. Katowice Television, the International Katowice Trade Fair, the "Spodek" Sports and Entertainment Hall, the NOSPR concert hall and the International Congress Centre.
As part of the DL Space project, on an area of about 2,000 sqm, office suites ranging from 8 to 50 sqm will be created. Commercialisation of the space is already underway. DL Tower is scheduled for completion in the first quarter of 2022.
The building is part of the DL Center Point Korfantego office campus with a potential leasable area of 45,000 sqm,
DL Tower offers over 17,000 sqm of usable space,
high standard of a class A building – DL Tower will be certified in the BREEAM system,
energy-efficient, pro-ecological solutions, including BMS system and renewable energy sources,
possibility of individual space arrangement of the leased area,
extensive accompanying infrastructure consisting of retail outlets, restaurants, canteen, gym and kindergarten,
independent transport routes,
300 parking spaces, electric car charging station,
parking spaces for bicycles and facilities for cyclists,
distinctive architecture and prestigious interior design,
excellent connection with the centre of Katowice and the neighbouring cities via the extensive public transport network (a tram stop is located in the direct vicinity of the building and it takes less than 15 minutes to reach the city centre by tram).